Heart Kuzumochi
Hanabi (firework)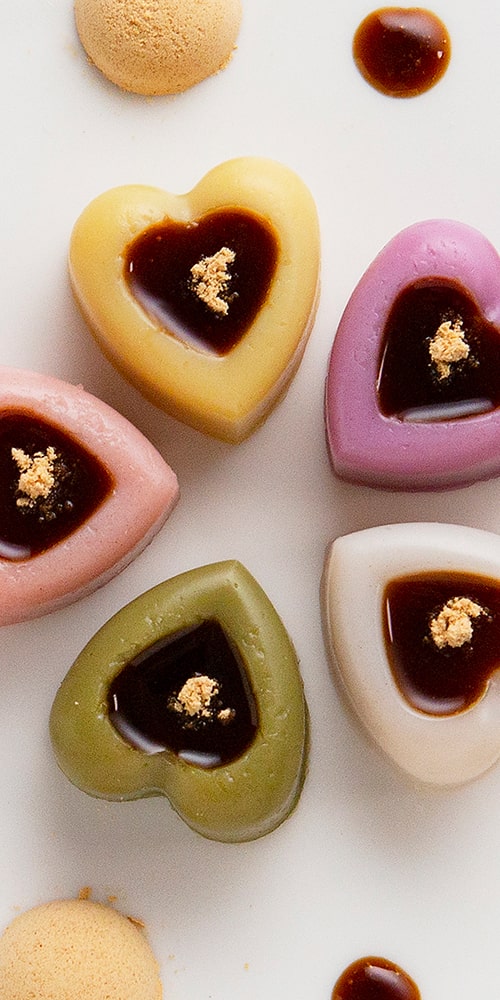 Putting Edo's sophistication into the heart
Cute heart Kuzumochi are colored with Japanese natural vegetables such as pumpkin, purple sweet potato and spinach. It is additive-free and healthy natural food. These colorful Japanese sweets look like fireworks in Edo period (1603-1868) and are visually pleasing.
Product Information
Best-by date
2 days
Raw materials
Kuzumochi (wheat starch, red malt, purple sweet potato, pumpkin, spinach) Kuromitsu (sugar, syrup, brown sugar, glucose, glucose-fructose liquid sugar, salt) Kinako (soybean)
Allergen
Contains wheat and soybeans
Time of Sale
Saturday: Nihonbashi Takashimaya S.C. (10:30-20:00)
Sunday: Nihonbashi Takashimaya S.C. store (10:30-20:00)
Sales will end as soon as they are sold out.
Note : Edo Kuzumochi is a healthful Japanese confectionery that is naturally fermented for 730 days, contains no preservatives, is vegetable-based, contains no eggs or dairy products, and is gluten-free.
Product Images
10pcs.
Wooden box
¥1,100(tax included)

10pcs.
Wooden box + hand towel packing
¥1,950(tax included)
You can choose from navy blue, red, pink, and light blue for the tenugui. Reservations required.