Kuzukuzu shake
Kuromitsu Chocolate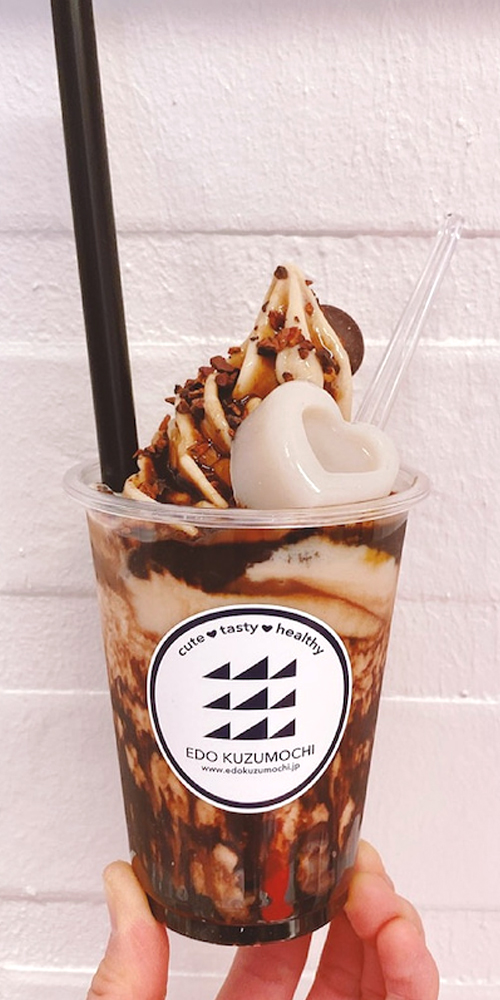 Valentine's Day Limited Edition Shake
Carefully selected 100% cacao mass, cocoa powder, and cacao nibs are mixed with molasses and kinako (soybean flour) in a shake. This chocolate Japanese shake has a very bitter yet gentle taste. We also recommend the soy milk shake ice cream as a topping. No milk, eggs, or additives. Enjoy the gentle melt-in-your-mouth taste with a moderate sweetness.
Product Information
| | |
| --- | --- |
| Best-by date | On the day |
| Allergen | Contains wheat and soybeans |
| Time of Sale | Valentine's Day period only |
Note : Edo Kuzumochi is a healthful Japanese confectionery that is naturally fermented for 730 days, contains no preservatives, is vegetable-based, contains no eggs or dairy products, and is gluten-free.
Product Images
Eating in
S ¥825(tax included)
M ¥880(tax included)
L ¥990(tax included)
Soy milk shake ice cream topping is +¥110 (tax included)

Take away
S ¥810(tax included)
M ¥864(tax included)
L ¥972(tax included)
Soy milk shake ice cream topping is +¥110 (tax included)