Kuzumochi
Kuromitsu Kinako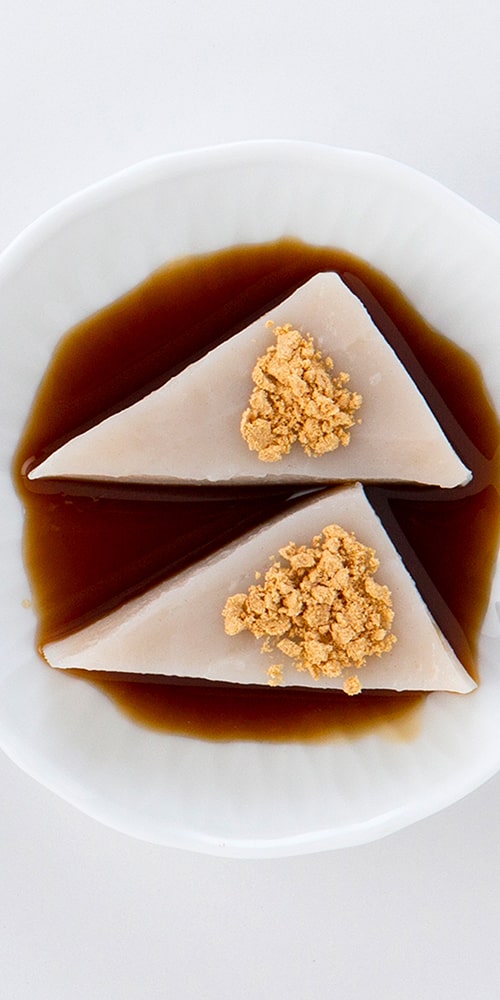 Freshly made Kuzumochi
Fresh Kuzumochi is made by lactic acid fermentation of wheat starch for more than 730 days (2 years) and then steamed by skilled craftsmen in the factory for about 7 days. The unique aroma, light sourness, and moist elasticity produced by lactic acid fermentation are unparalleled. Please enjoy the taste of freshly made kuzumochi with a generous sprinkling of kuromitsu and kinako (soybean flour).
Product Information
| | |
| --- | --- |
| Best-by date | 2 days |
| Raw materials | Kuzumochi (wheat starch), molasses (sugar, syrup, brown sugar, glucose, glucose-fructose liquid sugar, salt), soybean flour (soybean) |
| Allergen | Contains wheat and soybeans |
| Time of Sale | All year round |
Note : Edo Kuzumochi is a healthful Japanese confectionery that is naturally fermented for 730 days, contains no preservatives, is vegetable-based, contains no eggs or dairy products, and is gluten-free.
Product Images
Eating in
S (6pcs.) ¥440 (tax included)
M (8pcs.) ¥495 (tax included)
L (10pcs.) ¥550 (tax included)
Soy milk shake ice cream topping is +¥110 (tax included)

Take away
S (6pcs.) ¥432 (tax included)
M (8pcs.) ¥486 (tax included)
L (10pcs.) ¥540 (tax included)
Soy milk shake ice cream topping is +¥110 (tax included)

8pcs.
Mini (paper bag)
¥330 (tax included)

16pcs.
paper bag
¥720 (tax included)

16pcs.
Paper box + tenugui packing
¥1,740 (tax included)
You can choose from navy blue, red, pink, and light blue for the tenugui. Reservations required.

32pcs.
Paper box
¥1,200 (tax included)

32pcs.
Paper box + tenugui packing
¥2,020 (tax included)
You can choose from navy blue, red, pink, and light blue for the tenugui. Reservations required.

48pcs.
Paper box
¥1,550 (tax included)

64pcs.
Paper box
¥1,900 (tax included)

80pcs.
Paper box
¥2,250 (tax included)