Kuzumochi
Lemon syrup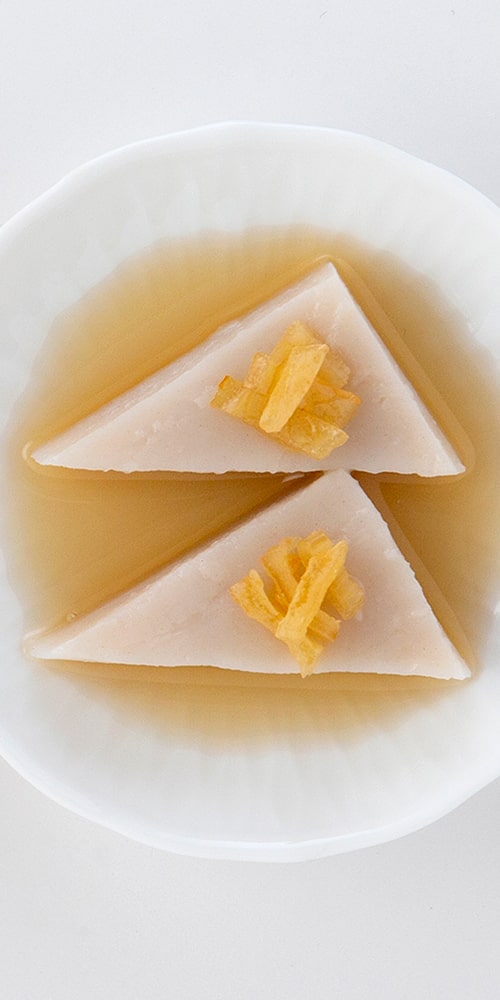 Cool and refreshing lemon harmony
Plain Kuzumochi with lemon peel and lemon syrup. For the lemon peel, we used whole lemons from Osakikamijima Island in Hiroshima Prefecture, located in the Seto Inland Sea, which are bathed in sunlight and have a fresh aroma and strong acidity. The lemon syrup is an elegant and refreshing blend of sugar and lemon juice. Please enjoy the harmony of the elasticity of the Hisayu mochi, the lemon peel, and the lemon nectar.
Product Information
| | |
| --- | --- |
| Best-by date | 2 days |
| Raw materials | Kuzumochi (wheat starch), lemon nectar (sugar, lemon juice), lemon peel (sugar, lemon peel, lemon juice) |
| Allergen | Contains wheat |
| 販売時期 | Limited season |
Note : Edo Kuzumochi is a healthful Japanese confectionery that is naturally fermented for 730 days, contains no preservatives, is vegetable-based, contains no eggs or dairy products, and is gluten-free.
Product Images
8pcs.
Mini (paper bag)
¥432(tax included)