Heart-Kuzumochi
Premium Strawberry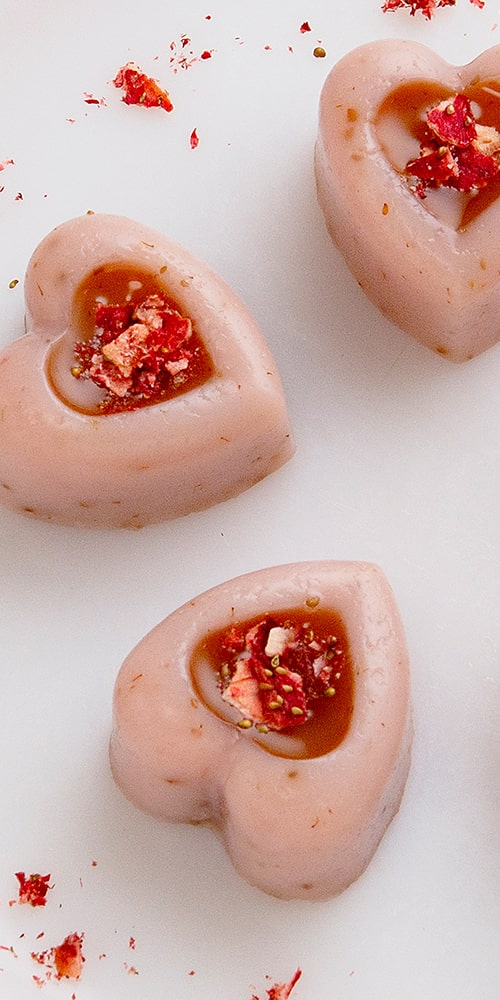 Kusyu mochi with a rich aroma of strawberries
Tochigi Prefecture's L or larger ripe strawberry is used. The sweetness, sourness, and aroma of freshly harvested strawberries can be tasted as they are, and the completely additive-free dried fruit is kneaded into Hisayu mochi. The honey is a blend of sugar from sugar beet and Tochiotome, and the aroma of strawberries is gently fragrant. The elasticity of the strawberry kyuju mochi, the dried Tochiotome, and the strawberry honey make this a product full of strawberries.
Product Information
| | |
| --- | --- |
| Best-by date | 2 days |
| Raw materials | Kuzumochi (wheat starch, Tochiotome) Strawberry honey (sugar from sugar beet, Tochiotome) Strawberry flakes (Tochiotome) |
| Allergen | Contains wheat |
| Time of Sale | All year round |
Note : Edo Kuzumochi is a healthful Japanese confectionery that is naturally fermented for 730 days, contains no preservatives, is vegetable-based, contains no eggs or dairy products, and is gluten-free.
Product Images
10pcs.
- Paper box(Simple packaging)
¥1,296 (tax included)
- Wooden box(For Gift)
¥1,546 (tax included)
Photo shows wooden box packaging.

10pcs.
Wooden box + hand towel
¥2,566 (tax included)
You can choose from navy blue, red, pink, and light blue for the tenugui. Reservations required.